Jewyo Rhii solo show: Liegen am Han-Fluss (2007)
Press release:
---
Jewyo Rhii
Liegen am Han-Fluss
17.3. – 21.4.2007
Einladung zur Ausstellungseröffnung:´
Samstag, 17. März 2003 , 18-20 Uhr
(For exhibition images, please click here)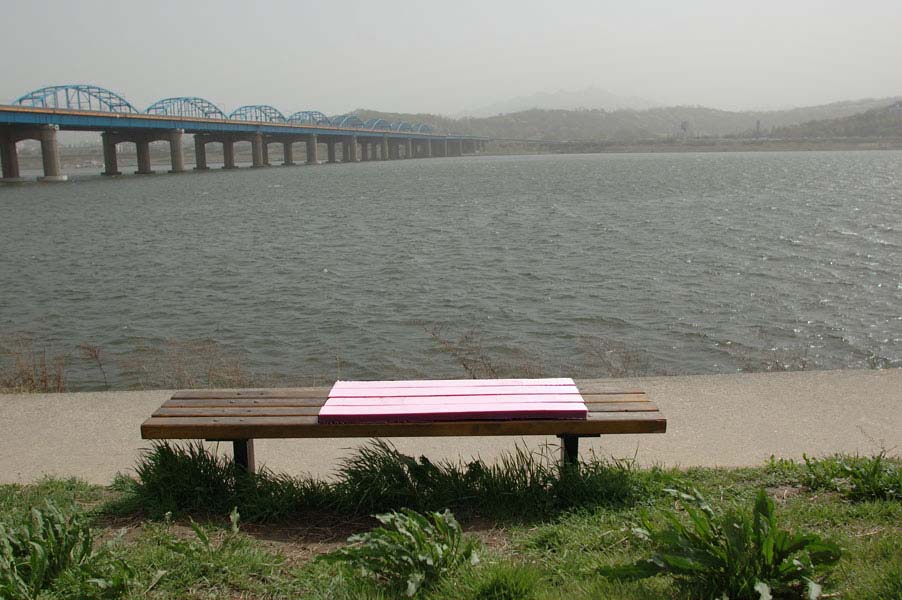 Ich freue mich besonders, mit der Kabinettausstellung "Liegen am Han-Fluss" erstmals in Deutschland die Arbeit der in Seoul lebenden und arbeitenden Künstlerin Jewyo Rhii vorstellen zu können. Nachdem sie ihr Grundlagenstudium in Korea abgeschlossen hatte, setzte sie ihre Ausbildung an der Philadelphia Graduate School of Fine Arts an der University of Pennsylvania sowie am Chelsea College of Art and Design in London fort. In den Jahren 2004/05 war sie Artist in residence an der Rijksacademie in Amsterdam. Sie verfügt bereits über weit gefächerte internationale Erfahrungen, die sie etwa in den Ausstellungen "Fantasia" in Seoul (2001) und Beijing (2002), bei "Under Construction" in Tokyo (2003), "Secret Beyond the Door" als Vertreterin Südkoreas bei der 51. Biennale di Venezia (2005). Zuletzt hatte sie 2006 eine von Sunjung Kim kuratierte Einzelausstellung in Samuso bei Seoul und wurde vom Kurator Hou Hanru zur Teilnahme an der 10. Istanbul Biennale eingeladen.
Jewyo Rhii ist eine der selten zu findenden Künstlerinnen, denen es überzeugend gelingt, das Zerbrechliche des alltäglichen Lebens durch die vorsichtige Aufnahme persönlicher Gefühle in ihr Werk zu erfassen. Seit Mitte der 1990er Jahre hat sie Überlebensstrategien entwickelt, mit denen sie auf die physischen und ökonomischen Bedingungen ihrer direkten Umgebung reagierte. Mit ihrem scharfen Blick und ihrem großen Einfühlungsvermögen gelingt es ihr immer wieder, verzweifelte Notlagen in humorvoll gehandhabte und warmherzig vermittelte Situationen zu überführen. Sie entdeckt das Zerbrechliche und versucht es zu verstärken. In der Ausstellung in meiner Galerie zeigt sie ihre neueste Arbeit "Liegen am Han-Fluss" in einer für den gegebenen Raum veränderten Fassung.
"Liegen am Han-Fluss" beruht auf der Geschichte zweier mittelloser Liebender, die sich immer am Ufer des großen Flusses trafen, der durch Seoul hindurchgeht. Der Mann vertritt eine antikapitalistische Haltung, aufgrund derer er glaubt, für ihn bestehe der beste Weg des Widerstands darin, in der kapitalistischen Gesellschaft jede Form von Arbeit zu verweigern. Die Liebenden können sich deshalb keinen noch so kleinen Raum mit vier Wänden und einem Dach leisten, in dem sie sich küssen und lieben könnten, wann immer sie wollen. Schließlich trennen sie sich, als es im Winter draußen zu kalt wurde, um sich weiter am Fluss zu treffen. – "Liegen am Han-Fluss" ist nun der visuell umgesetzte Liebesbrief der Frau, mit dem sie ihren ehemaligen Liebhaber zur Rückkehr an den Han River einlädt. Sie schreibt: "Komm zurück, so viel brauchen wir doch nicht in unseren Leben", und sie schafft einen warmen Platz, an dem sie sich hinsetzen und hinlegen können, wo sie der Kälte ausweichen und unter Verwendung minimaler Mittel ihre Privatheit genießen können. In dem Video der Installation, das 2005/06 entstand singt der Musiker und Performancekünstler David Michael DiGregorio Jewyo Rhiis Botschaft im Hintergrund.
Wie in vielen ihrer anderen Werke gelingt es Rhii auch hier, Vergänglichem, das vielleicht schon in ein paar Sekunden vorüber ist, eine installative Dauer zu verleihen. So beiläufig sie auf den ersten Blick gemacht scheinen: Ihre flüssig ausgeführten Skizzen üben eine starke Faszination auf ihre Betrachter aus. Das Zerbrechliche, so Rhii, wird in unserem Alltagsleben leicht ausgeblendet oder von starken Eindrücken niedergemacht. Sie dagegen verweist auf eine potentielle Macht der Zerbrechlichkeit.
Die Ausstellung "Liegen am Han-Fluss" wurde von Miya Yoshida, einer unabhängigen Kuratorin und Kunsthistorikerin aus Berlin kuratiert.
---