10.30 – 17.00
-Faculty of Communication Arts, Chulalongkorn University-
As part of the art project "Lak-ka-pid, Lak-ka-perd: The Bangkok Invisible Landscapes," this comprehensive seminar aimed at providing its public with information and reflections furthering an understanding of the specific Bangkok space and its relationship with all others. This one-day seminar was comprised of various topics related to urban landscapes in Bangkok. The contributors included experts on different fields: architecture, politics, gender issues, and others.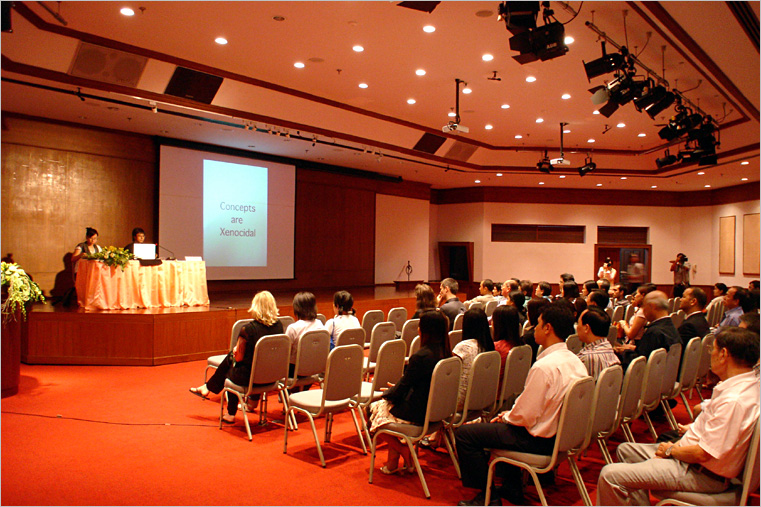 Schedule
10:30-10:45: Registration / Coffee
10:45-11:45: Keynote speaker: Thanes Wongyannawa
11:45-12:45: Lunch break
12:45-13:30: Dr. Khaisri Paksukcharern
13:30-14:15: Dr. Visarut Phungsoondara
14:15-14:30: Coffee break
14:30-15:15: Tomorn Sukapreecha
15:15-16:00: Viriya Sawangchot
16:00-16:15: Coffee break
16:15-17:00: Devapoj Sambandaraksa
Speakers
Thanes Wongyannawa received his M.Sc. grade at the University of Wisconsin and M.phil. at Cambridge University. He is a lecturer at the Faculty of Political Sciences, Thammasat University. He is one of the prominent academics and critics of Thai society, specializing in postmodern theory. His interests include a wide range of subjects from history, politics, music, film, contemporary arts, to food. His recent publications include studies on the "face of Postmodernism in Thai society", on the development of Chinese food with its relation to "democracy", and on Che Guevara.
Khaisri Paksukcharern received her Ph.D. in Architecture at Bartlett School of Graduate Studies, University College of London, has dedicated herself to the study of urban spaces, particularly from an architectural viewpoint, in metropolitan scenes like that of Bangkok. She now teaches at the Department of Urban Planning, Faculty of Architecture, Chulalongkorn University.
Viriya Sawangchot is a researcher working on the subcultures of Bangkok, which he regards as constitutive for various forms of identity. He takes the cues of his research from different kinds of phenomena, working, for instance, on habits of media consumption. He is also a contributor to numerous academic books, such as "In Between Life: Self and Meaning" and a political science journal published at Thammasat University.
Visarut Phungsoondara received his Ph.D. in Art History at Middlesex University. He is currently a lecturer at the Faculty of Fine and Applied Arts, Master of Fine Arts Program in Design, at Rangsit University. His works include a study on aesthetic experience in the new urban landscapes.
Tomorn Sukapreecha is a writer, translator, and Executive Editor of GM Magazine. Among his interests are feminism and gender issues.
Devapoj Sambandaraksa – As a contributor to the Bangkok Post, he puts forward new and thought-provoking ideas on how Information and Communication Technologies are affecting our lives in his weekly column called "Open Thought". He is also editor of the monthly newsletter of Software Park Thailand, an organization under the Ministry of Science and Technology.
Abstracts
Thanes Wongyannawa
"Centralising Decentralised Arts"
Khaisri Paksukcharern
"Made in Bangkok"
"Made in Bangkok" explores the issue of transgressive urban architecture in Bangkok, where a new spatial form is being constructed as a hybrid between architectural and urban spaces, created by randomized principles. A similar scene in a big metropolitan like Tokyo has previously been examined in a comparative study, in which the notion of "the others" has been taken into view from the viewpoint of architecture. "Made in Bangkok" studies similar issues in contemporary Bangkok cultures shaping these other architectural and urban spaces.
Viriya Sawangchot
"Fast, Furious & Safety First: Bangkok Subculture"
This contribution is concerned with the complex relations between youth subcultures and cultural landscapes of Bangkok in oppositional forms of pop culture. It is also interested in how these youth subcultures come into being through organizing and contesting around western music, global media and role models that are understood as "deviant".
Visarut Phungsoondara
"Skytrains, Subways, Meanings and the Aesthetic: the Paradox of Visibility and Invisibility in the New Urban Landscape"
The arrival of skytrains and subways in Bangkok has altered the city's image both in terms of meaning and of aesthetic configuration. By focusing on new urban elements, which seem incoherent, arbitrary and unattractive to many, the paper investigates into the city's discourse of progress and modernisation, together with historical discourses concerning railways and other rail transit systems. A popular vision of the "city of tomorrow" is also considered, in the way that – with the conglomeration of contemporary traffic congestion fear and obsession – it has produced a complex set of meanings and, ultimately, the aesthetic experience of the new urban landscape.
Devapoj Sambandaraksa
"The Art of Progress: Random Thoughts on Technology, Free Speech and the Knowledge-based Society."