Lak-ka-pid, Lak-ka-perd
The Bangkok Invisible Landscapes
March 11 – April 15, 2005
Sopawan Boonnimitra and Miya Yoshida presented a series of art projects on contemporary urban conditions of Bangkok, titled "Lak-ka-pid, Lak-ka-perd: The Bangkok Invisible Landscapes," at Center for Academic Resource, Chulalongkorn University, and House Rama Theater, from March 11 through April 15, 2005.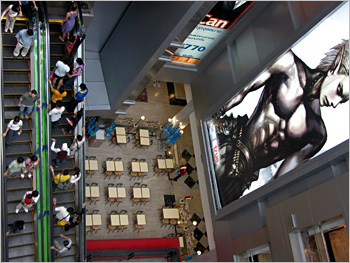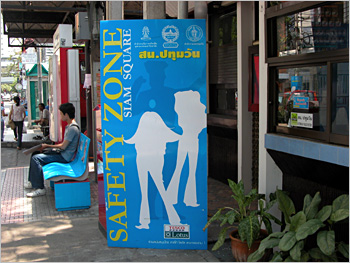 "Lak-ka-pid, Lak-ka-perd: The Bangkok Invisible Landscapes" was a group of projects, consisting of exhibitions, lectures and a screening thematically focused on the city of Bangkok. It aimed at illustrating and questioning the transformation of spaces in urban life. After going through significant changes by the effects of globalization and capitalization in the past decade, the organization of city space has become a crucial means for the government to reorganize Thai society. Many factors are involved in these changes: New developments in technology and in the means of transportation, the increasing number of foreigners or the free movement of workforce between regions and neighboring countries, the increased visibility of homosexuality in public spaces, and so on. These complexities have brought additional invisible layers on top of those already visible in the city, and have changed the organization of space as well as the relationships between the space and its habitants.
In order to discuss these social, economical, political, technological and cultural encounters, a series of projects was initiated to redefine emerging and disappearing boundaries, starting from the Thai phrase "Lak-ka-pid, Lak-ka-perd" – which literally means "sometimes open, sometimes closed". Beyond binary perceptions such as self/other, public/private, inside/outside, center/periphery and digital/analogue, eleven artists, both domestic and international (see list of participating artists below) produced works dealing with the Bangkok Invisible Landscapes and presented them in the platform of the exhibitions, in a film screening and in talks. The series of events started from the inaugural lecture of Prof. Sarat Maharaj (Lund University / Goldsmiths College) on March 11, from 16:30, before the exhibition was opened at the Center for Academic Resources at Chulalongkorn University.
Schedule of the series of events:
Opening:
March 11, 2005 18:00 – 21:00 / Center for Academic Resources
March 13, 2005 18:00 – 21:00 / House Rama
Inaugural Lecture:
March 11, 2005 16:30 – / Center for Academic Resources
"On visual arts as knowledge" by Prof. Sarat Maharaj / Lund University, Goldsmiths College
One-day Lecture:
March 12, 2005 10:30 – 16:30 / Faculty of communication arts, Chulalongkorn University
Film Screening:
March 13, 2005 /House Rama
___