Labour of Love – Revisited, Seoul (2011)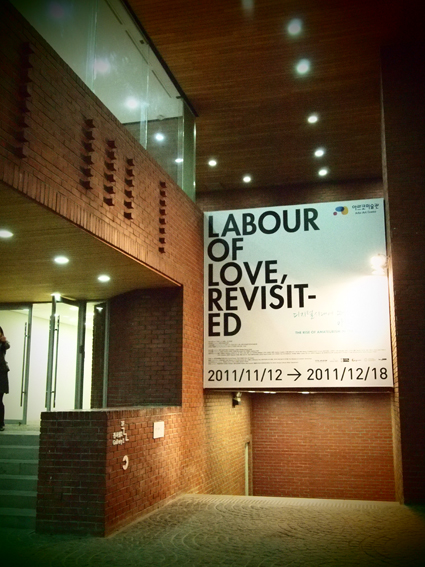 LABOUR OF LOVE, REVISITED
The Rise of Amateurism in the Digital Age
November 12 – December 18, 2011 Arko Art Center, Arts Council Korea
Labour of Love, Revisited is a thematic group exhibition with the participation of 15 artists – both international and domestic. The exhibition adopts the notion of the "amateur" as a starting point for examining contemporary realities in art and popular culture and takes an analytical look at concrete practices.
"Amateur" has been considered as those cultural figures whose "spleen", a "pure" and selfless love for particular objects, or arts, set them aside from other social groups. By contrast, professionals are those who are "only in it for the money". However, society has been through an enormous transcendence over recent decades, effected by the influences of global mobility, transnational capitalism, and the development of delocalized technologies, together with the wide distribution of electronic commodities, logistics and network connectivity. This certainly impacts on the contemporary notion of labour, especially of cultural labour, as it marks a distinctive shift in the field of modern cultural production. All these consequences demand of us a platform to reconsider what "amateur" is/could mean today.
The title of the show is inspired by a historical exhibition, A Labour of Love at The New Museum of Contemporary Art, New York in 1996. Reflecting the debates on high and low culture in the late 80s and the early 90s, the exhibition re-evaluated a labour invested in material value in craft, and acknowledged works with artistic qualities interwoven in the cultural traditions and the artistic skills of individuals. One and a half decades later, under transformed social and economic conditions, a notion of labour needs to be re-examined in relation to love in cultural production, by provoking a modernistic distinction of who is and what signifies an amateur today. The notion of "amateur" is radically on the move!
List of Artists: Berit Noergaard (Denmark), Hojun Song (Korea), Hwayeon Nam (Korea), Javier Téllez (Venezuela), John Chors (Netherlands), Mary Mattingly (U.S.A.), Matthew Bladley (Australia), Nico Nico Doga (Japan), cinéma copains /Minze Trummenscheit & Arne Hector (Germany), Momus (U.K.), Moriz Fehr (Germany), Nobuaki Date (Japan), Suntag Noh(N)+85 of 85 project (Korea), Toru Koyamada (Japan), Yangachi (Korea), and Letters Collection contributed from the Museum of Jurassic Technology (U.S.A.)
Labour of Love, Revisited is conceptualized by Miya Yoshida and co-curated by Nathalie Bosul Shin, supported by the Arts Council Korea, the Goethe Institute, the Berlin Senate Cultural Affairs Departmentand the Danish Art Council.