Sharing as Caring 2: Heidelberg- Fukushima Shiori Project -part 1- (2013)
60Cabinet Exhibition at Heidelberg Kunstverein
Sharing as Caring 2: Presence for the Future (2/5)
Feburary 8 to April 12, 2012.
Opening on Feburary 8 from 7pm.
One Day Memorial Event on March 10 from noon to 9pm.
Photo by Chihiro Minato © 2012
1: SHIORI PROJECT Heidelberg, 2013

The second year will present SHIORI PROJECT Heidelberg 2013: from Fukushima to Heidelberg, vice versa by Chihiro Minato, a Japanese photographer and an anthropologist.
The project presents and distributes special SHIORI (bookmark in Japanese) at various locations in Heidelberg. These SHIORI show segmented images of photographs that Minato took after the Fukushima Catastrophe. All the photographs are available, to those who access the website, which also provides a space to write/read comments and anecdotes about those photographs as well as the current updates on the Fukushima region.
SHIORI PROJECT HEIDELBERG 2013 attempts to connect those who show concern about the issues on the catastrophe, and to initiate activities to think future visions together. Approximately 32,000 special bookmarks were produced for free distribution at 20 places in the city, such as university libraries, city library, second-hand bookshops, Japanese restaurants, Heidelberger Kunstverein etc. On March 10, Heidelberger Kunstverein hosts one day event to commemorate the Fukushima catastrophe with reading, lectures, screenings and presentations on the theme of Fukushima.
List of the 20 places for free SHIORI distribution
Teesalon Heidelberg /Untere Neckarstr. 36
Japanologie Heidelberg University/ Akademiestr. 4-8
Same same Sushi/Steingasse 3
Schmitt & Hahn/Hauptsr. 8,Brückenstr. 4,Hauptbahnhof
Japanese Restraunt Konomi/Untere Neckarstr. 54
Hatry/Haupstr. 119
Büchertruhe/Brückenstr. 9
Theater Heidelberg/Theaterstr. 10
Himmelheber/Theaterstr. 16
UB/Plöck 107-109
Schöbel/ Plöck 56a
Leanders Leseladen/Märzgasse 6-8
Stadtbücherei/Poststr. 15
Lehmanns/Universitätsplatz 12
Ostasiatische Kunstgeschichte, Heidelberg University/Seminarstr. 4
Lichtblick/ Plöck 46
Reisebuchladen Heidelberg/Kettengasse 5
Antiquariat Canicio/Plöck 64a
Kraus Sushi/Hauptstr. 43
Wetzlar Fremdsprachenbuchhandlung/Plöck 79
******
And a workshop by Chihiro Minato will take place in mid-July 2013. In the workshop, Minato will make an introductory talk about SHIORI PROJECT as well as a historical and cultural background of SHIORI in Japan. After the workshop, new sets of bookmarks produced with the images of Heidelberg that he has shot will be distributed.
*******
2: Onagawa Project: Photo Documentation about SUZUNOSUKE, 2013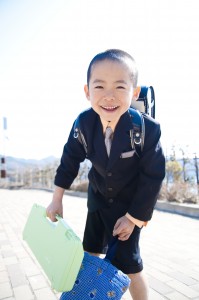 The second part of Sharing as Caring shows photo documentation by a Japanese photographer, Toshie Kusamoto. A series of photography take a close look at one Japanese boy who lives in Onagawa, Japan. He experienced the catastrophe and lost his house when he was five years old. After two years, he and his family still lives at a temporary shelter house, which is only 4.5 qm.
Sharing as Caring continues to show Kusano´s photo documentation about Suzunosuke every year, to update and present how he grows up with his unspeakable experience in March 11, 2011.
Photo by Toshiko Kusamoto © 2012
*********
One Day Memorial Event on March 10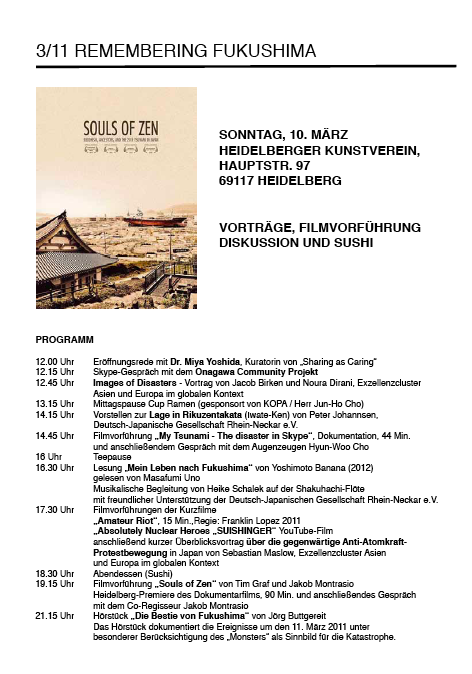 Presence for the Future #2 is kindly supported by GBFund, Japan, City Drück Heidelberg, and 20 distribution places in the city.