THE WORLD IN YOUR HAND
Contemporary art, film, talks – On the global everyday culture of the mobile telephone
March 20 – May 23, 2010
In the Internet era the mobile phone promises an almost infinite expansion of our spheres of action with ubiquitous connections. Over the past decades, almost no other technological innovation has been able to find widespread dissemination so easily and rapidly, none other has taken such complete possession of our daily lives as the portable telephone. As a status symbol of up-market consumerism that is less concerned with material goods than with information, it embodies the individual's participation in the information society of the 21st century. It has recently been called a 'territorial machine': an electronic device that doesn't just lay the world at the feet of its users, but actually puts it in their hands.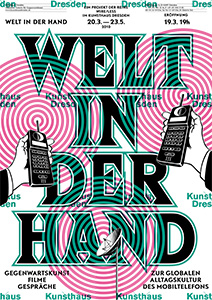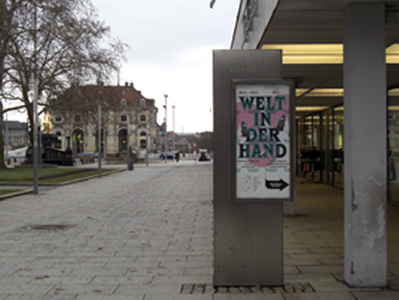 As camera, Walkman, organizer, navigating device, and post box for private and business messages, the mobile phone does not only represent a connection to the world for the affluent parts of the planet, but also for societies which previously had little or no access to communication networks. The triumphal march of mobile communication through Africa is unprecedented.
However, in the meantime the permanent availability of the world , but also ourselves in all our actions and emotions, has turned out to be a promise that is double-edged, to say the least. The title, The World in Your Hand refers to Welt am Draht [World on a Wire, literally: connected], a television film by Rainer Werner Fassbinder, one of the first films in which virtuality is critically described. Originally taken from a 1964 novel by Daniel F. Galouye, it concerns a virtual metropolis created for market research purposes. In a similar manner, The World in Your Hand sees the contemporary cell phone, as a mobile branch of our brain with its data, which can be called up by satellite at any time, would be the ideal interface with our consciousness.
The exhibition in the Kunsthaus Dresden — developed in collaboration with Miya Yoshida — the accompanying programme, and the book that will be published for the The World in Your Hand, all thematize aspects of the everyday, global culture of the mobile telephone. The book for The World in Your Hand exhibition appears in cooperation with Jan Wenzel and Paul Feigelfed and is published by Spectorbooks, Leipzig, in German and English.
Miya Yoshida is a curator, writer and researcher in Berlin. The exhibition at Kunsthaus Dresden is partly based on explorations carried out in three previous locations – Malmö, Bangkok, Lund as well as on her dissertation, Invisible Landscapes, The Construction of New Subjectivities in the Era of the Mobile Telephone (2006) at Lund University, which examines the construction of new subjectivities in the context of mobile telephony and art.
The World in Your Hand is supported by Kulturstiftung Bonn, Japanisches Kulturinstitut Köln, IfA, Europäischer Sozialfonds and Danish Art Council.