Film Programme
Over the past two decades, the city of Bangkok has been explored and represented in many media and with intense scrutiny. It is a place where technology bypasses all the problems of time and distance and where information can reach even the most remote corners of the world: We experience Bangkok not only being in this city, but also through experiencing the representations of it. One of the most significant and compelling representations of this is to be found in filmic images, now a major source of imagination and creativity through which the city can be experienced beyond seemingly banal everyday lives.
The relationship between filmic images and the city of Bangkok has been intricate and is interwoven with various ways in which the inhabitants of the city respond as the transformations of the city are happening over time. The city cannot be considered as a mere, exchangeable backdrop for films, as one may have been misled to believe in the past. It has become a much more heterogeneous space, a space of contradictions. This is where the multiple forces in the society become visible on screen, where they provide multiple readings and understandings to each of its inhabitants. The relationship between these contradictory factors has never been closer than when the city we used to know has been threatened with change. Many formerly prominent features have all but disappeared, while the filmic images themselves are also threatened by disappearance as the popularity of digital media increases.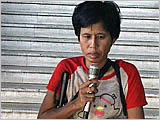 The film programme aims at an exploration of the relationships between city, filmic image and inhabitants' perspectives. This is further explained by answering questions about how the filmic images may capture the transformations that are left outside the realm of everyday representation and of our consciousness, as well as to represent diverse views on the city with a mixture of different expectations, prejudices and more or less reliable information sources. The Bangkok we know and experience, and which has been represented elsewhere (as a "city of vice") may actually represent two entirely different cities. What the "real" Bangkok is may never be represented in any one of these films, nor perfectly articulated in any art piece. Perhaps, if at all, it is in a utopian "in-between" that one can find the real Bangkok.
The dynamic programme is comprised of three different groups of films. The first is a group of acclaimed short films on Bangkok that have been made in recent years. The second is a selection of short films from a competition on the topic "A Day in (The Other) Bangkok", which had been launched in advance as part of this project. The third consists of new short films on Bangkok made exclusively for this project. It was an agreement between the project and three young filmmakers to produce short films about their own "invisible" or "lak-ka-pid-lak-ka-perd" Bangkoks.
Commissioned films
"Life Show," 2005, by Thunska Pansittivorakul
This "life show" is a live show by a great, provocative, handsome, and sexist star – a performance explaining what could be a "lak-ka-pid-lak-ka-perd" behavior. Thunska Pansittivorakul is a columnist for several local film magazines and is founder of www.thaiindie.com. He has made several experimental short films and documentary features, including "Private Life" (2000), "Sigh" (2001), "Voodoo Girls" (2002), "Chemistry" (2003).  His films were shown in many international film festivals. He recently received the Grand Prize Award at the 4th Taiwan International Documentary Film Festival 2004 for his critically acclaimed documentary feature "Happy Berry" (2004). "Happy Berry" and "Unseen Bangkok"(2004) have been selected for the 34th International Film Festival Rotterdam (2005).
"National Anthem," 2005, by Sompot Chidgasornpong
"pra thet thai ruam lueard nuea chart chuea thai pen pra cha rat pha-thai khong thai took suan  yoo dam rong kong wai dai tang muan  duay thai luan mai rak sa mak kee  thai nee rak sa-ngob tae thueng rob mai khlard  aek-ga rart ja mai hai krai khom khee  sa-la luead took yard ben chart plee tha-loeng pra thet chart thai ta-wee mee chai cha-yo"
Film has always been a great passion for Sompot Chidgasornpong. At age 19, he won Fan-Pan-Tae's trophy (a TV quiz show) for his great knowledge of Walt Disney. At 21, he co-wrote the critically acclaimed play "You're Gorgeous, Dear" and won the Sod-Sai Award for best play and best script. Having graduated with a bachelor's degree in Interior Architecture and receiving Best Thesis Award, he began working in the film industry. He was second cameraman for Apichatpong Weerasethakul's "The Adventure of Iron Pussy" (2003), Second Assistant Director for "Tropical Malady" (2004) and First Assistant Director for "Worldy Desire" (2005). His short video "To infinity And Beyond" was shown in Two Preludes as part of the "SEA EYE" programme at the 34th International Film Festival Rotterdam (2005), and it was also selected for the TV5 Tiger Cub competition.
"The Airport," 2005, by Pattana Chirawong
"….She likes to take me to watch the plane at Don Muang Airport…..She teaches me to know the plane….But not so long ,Don Muang Airport will be shut down….It will remain only good memories between me….her and that place in the time after midnight…"
Since he was a film student, Pattana Chirawong has always been working in the short film medium. Many of his films have participated in several international festivals including "Looking Through the Glasses" (2001), which won the award at the 5th Thai Short Film & Video Festival, and was selected to participate in the 2001 Up and Coming Film Festival, Hanover, Germany, and in the Bangkok International Film Festival of the same year. In 2003," Tears" won the runner-up prize at the 7th Thai Short Film & Video Festival and was selected for participation in the 2004 Busan Asian Short Film Festival, Korea. In 2004, "Sooth, His Pure Story" won the runner up prize from The 8th Thai Short Film & Video Festival again. In 2005, he has made his first feature film, "Sugarless", in cooperation with www.thaishortfilm.com. He is also a scriptwriter, columnist for a film magazine, and organizer of the annual First Frame Film Festival, Thailand.